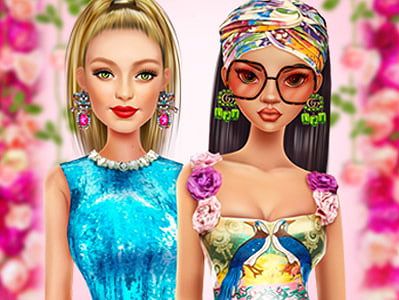 Jugando a TikTok Supermodels en Prinxy
La historia de TikTok Supermodels
Dress up your favorite supermodels with the TikTok Supermodels dress-up game for girls! Are you ready to get started with the fun?
In the TikTok Supermodels dress-up game, you're joining Kendall, Riri, Ariana, and Gigi for a one-of-a-kind virtual fashion show. First up is Riri. She'll be wearing a head-to-toe printed outfit, and I have to say you ladies are going to love her special wardrobe. Browse through her wide selection of patchwork dresses, chic t-shirts with fierce animals prints, and then through her selection of mini and midi skirts, mix and match them as you wish, and pick the winning outfit to dress her up with. Then go ahead and select a pair of printed high heels to complete her outfit with. A designer bag and some oversized earrings would perfectly complete her catwalk outfit. What do you think of the look?
Now we're getting into the pink and purple stuff. These are two of Ariana Grande's favorite colors! She's got an amazing collection of dresses, and you won't want to miss it. They cover all lengths and are suitable for a variety of events, from a casual lunch with the girls to a business meeting or a red carpet event. Browse through all the options as you continue playing this online fashion game for girls, have Ari try the dresses you like the most, and pick your favorite. Are you going to pick a casual look for her or rather a red carpet look?
Then we switch gears to create an outfit in neon colors with crystals and sequins for gorgeous Gigi Hadid. I think we've all got some neon clothes in our closets somewhere, but Gigi has taken it to a new level with her collection. Featuring crystals and sequins galore, she's going to get all the head turns when stepping into the room. Prepare your eyes, ladies! Once you've decided on the winning dress, go on and accessorize it with sandals, and sparkling jewelry. Great job, ladies! Are you ready for some more?
Don't stop here! Continue playing our Prinxy game with supermodels and get ready to dress up yet another famous celebrity. It's finally showtime for Kendall Jenner! We saved a stunning collection of evening dresses for her, find the best one to dress her up with, and then don't forget to accessorize.
Have a great time playing the TikTok Supermodels online at Prinxy.app!
Game Controls
Use your mouse to browse through all the options in this online game for girls.
If you like this game, you can also try other TikTok Games by Prinxy.app: